News and articles about Modern Workplace Learning (MWL) selected by – and with commentary from – Jane Hart.
---
From around the Web
12 February 2017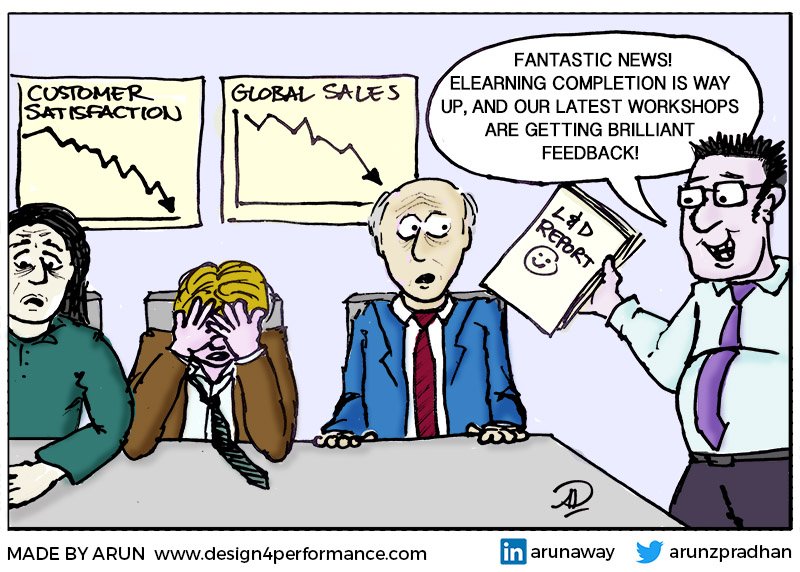 Arun Pradhan shared this graphic in a TWEET, The case for L&D to focus on #performance and to measure what matters. #learning
JH: Arun once again cleverly sums up the need to think more about the impact of learning rather than just on the activity of creating and delivering it.
---
14 February 2017
Amazon announced its new tool for online meetings, video conferencing, calls, and chat – AMAZON CHIME
"Take your meetings anywhere with a rich, easy-to-use application available for Android, iOS, Mac, and Windows. Meetings and chats are always synchronized, you can join meetings from any device, and you can switch seamlessly between devices anytime – even in the middle of a meeting. Use one application to conduct online meetings, video conferencing, chat, screen sharing, and file sharing, both inside and outside your organization. You don't need to switch between applications to collaborate. Instantly go from a chat to a call, share your screen, and even invite more people, with a simple click or tap, all in the same application."
JH: There are already a number of similar platforms available, will Amazon Chime be able to break into this marketplace
---
14 February 2017
DOING NOTHING VS DOING EVERYTHING – Blair Rorani
"There are two ends to the instructional design spectrum: doing nothing and doing everything..

The best way to do this is to start by asking, "What if we did nothing?" knowing full well that this won't be appropriate. But then you should imagine that you're an inch worm and take teeny, tiny steps from doing nothing towards the other end of the spectrum. You do this by validating and testing every assumption starting with the most time consuming and expensive solutions."
JH: Blair's article gives great food for thought to designers, and the takeaways sum it up well. "Start with doing nothing and only add what is absolutely necessary to design the minimum viable solution. Design less!
---
16 February 2017
WHY EMPLOYEES AREN'T WATCHING YOUR VIDEOS – Inc.com
Alison Davis explains why it is important to leave behind 6 boring, outdated practices.
The video takes FOREVER to get started.
Nothing really happens.
There's no emotion.
The video is too long–or (sometimes) too short.
The format's not convenient.
It offers nothing of value for the employee.
JH: These are all important points but I think the last one is the most important – the video needs to be relevant to the employee. In fact the most significant reason why people don't watch or read the things you create, is because they are being MADE to. A much more flexible approach to usage is required – they need to be available on demand, to be used as and when desired/required.
---
16 February 2017
EMPLOYEES DON'T NEED WORKPLACE TOOLS TO BE FUN, JUST EFFICIENT – CMSWirs
"Organizations have been trying for years to increase employee adoption of tools — and make work fun in the process — by incorporating gamification into the work environment. Gamification hasn't increased employee engagement and motivation the way organizations hoped it would. This is especially true with information workers, where gamification efforts fell flat."
JH: Don't force fun. Gamification might suit certain situations but it doesn't increase motivation. Think very carefully before assuming gamifying training will make it any more engaging. To paraphrase: Employees don't need e-learning to be fun, just efficient.

17 February 2017
ARTICLE OF THE WEEK

BECOMING A LEARNING CULTURE: COMPETING IN AN AGE OF DISRUPTION by Stephen Gill
"The only thing holding companies back from learning at the speed of change is their organizational culture which, for many, is a barrier to learning. Most companies have a training culture, not a learning culture. This emphasis on formal training is a barrier to learning and change."
JH: Stephen provides a comprehensive rundown of the key differences between a training culture and a learning culture. This is a must-read!
---
From the MWL Magazine
13 February 2017
5 FACTORS DRIVING MODERN WORKPLACE LEARNING by Jane Hart
In this article in the Modern Workplace Learning Magazine, I take a look at 5 factors that are impacting the workplace and driving a new approach to workplace learning, and which also mean a very different organizational learning culture from the long-standing traditional training culture that exists in most workplaces.
---
16 February 2017
MASTERY TAKES TIME AND EFFORT by Harold Jarche
"Is reflection solely the realm of sitting and thinking on one's own? Or is it the ebb and flow of conversations and making meaning through discourse? Time for silent reflection is undoubtedly beneficial, but can it enable us to understand other opinions and new ideas, or will it lead to narrow egocentric thinking instead? Our deepest learning often comes from our engagement with others. It can even hurt to learn. We learn socially, as humans have for millennia. While we need time for reflection, we need real experiences to reflect upon. This makes our learning personal: felt in our gut. Real learning is not abstract."
Upcoming MWL Workshop
SUPPORTING MANAGER-LED LEARNING
Intro to MWL: 27 February – 10 March
Supporting Manager-Led Learning: 13 March – 17 April 2017

When it comes to manager-led learning, there is a huge opportunity to work with managers to help them recognise, value, encourage and support the learning that takes place everyday as a natural part of work – both individually as well as in work teams and groups.This 4-week online workshop looks at how you can help managers, individuals and teams learn from their everyday work as well as support collaborative problem-solving and innovation.
---
You may copy, print or forward all or part of this Newsletter to others as long as any use is not for resale or profit and I am attributed.
Jane Hart
Centre for Modern Workplace Learning