Here are posts, articles and news about Modern Workplace Learning (MWL) selected by Jane Hart for the week 29 July – 4 August 2018
---
From around the Web
How to become an HR trendsetter  Richard Justenhoven, HR Zone, 20 July 2018
To truly differentiate your HR practice, it's not enough to just read about new HR developments in the media. If something is being written about, then others will already be doing it. To get ahead of the pack, you need to consider what developments are noteworthy and what impact they could have on the management of people in your organisation. When you think something will have a positive impact, find a way to trial it. If you can do your own research and your own pilot testing, you could be adopting the 'next trend' before others have even heard about it. You'll then be reaping the rewards while others are playing catch up.
---
The business challenge of our time is creating meaningful work  Fast Company, 30 July 2018
Motivated employees can accomplish a lot. How to get there: Make your business values something people are willing to work for–and actually believe in them.
---
Mobile Malarkey  Clark Quinn, 1 August 2018
Look, the real mobile opportunity is about performance support and contextualized learning. Spaced learning is good (though not unique to mobile).  But to argue mobile's on the rise, and it's about content, is to misconstrue the state of the industry and the opportunity.
---
Selling Solutions Isn't Enough  Hannah Grove, Kevin Sellers, Richard Ettenson, and Jonathan Knowles, MIT Sloan Management Review, 1 August 2018
"The word solution needs to be retired from the business vocabulary. What was once a meaningful, buyer-defined term that meant "the answer to my specific problem" is now generic jargon that sellers have co-opted to mean "the bundle of products and services I want to sell you."
---
A decade of smartphones: We now spend an entire day every week online  Charles Hymas, The Telegraph, 1 August 2018
The average person in the UK spends more than a day a week online, according to a landmark report on the impact of the "decade of the smartphone". People are on average online for 24 hours a week, twice as long as 10 years ago, with one in five of all adults spending as much as 40 hours a week on the web.
---
Keeping Up With Cardiology: Old-School Learning Versus the Twittersphere  Yael L Maxwell, tctMD, 2 August 2018
Physicians in 2018 turn to medical journals, meetings, online resources, face-to-face conversations, and Twitter—but not always in that order.
---
Share to Learn  Tanmay Vora, 2 August 2018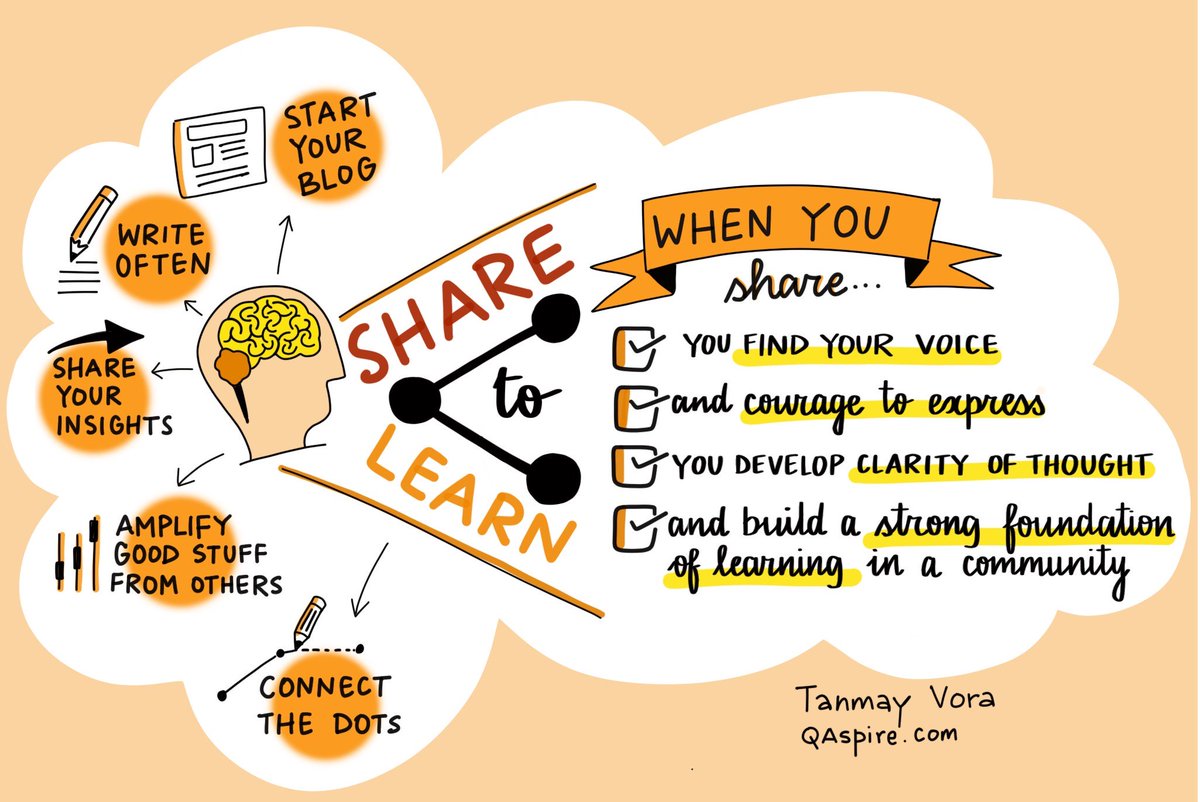 ---
We don't need more collaboration; we need smarter collaboration  Sean Nolan, CMS Wire, 3 August 2018
"Collaboration in the workplace is radically changing. Over the past 20 years, the workplace pendulum has swung far in the direction of team-based environments and processes. Think open office floor plans, chat applications, and meetings upon meetings upon meetings. However, the pendulum is swinging back towards a more individualized workspace as employees and teams realize that more collaboration doesn't necessarily mean better collaboration."
---
Vote for your Top Tools for Learning 2018
 1,245 votes received as at 4 August 2019
The Top 200 Tools for Learning 2018, the 12th Annual Digital Learning Tools survey is now open. Jane Hart will once again be compiling the list from the votes of contributors worldwide as well as 3 sub-lists:
Top 100 Tools for Personal & Professional Learning 2018
Top 100 Tools for Workplace Learning 2018
Top 100 Tools for Education  2018
Voting closes: mid-day GMT, Friday 14 September 2018
Results released: 8 am GMT, Monday 24 September 2018
---
Next MWL Workshop
Designing & Delivering Modern Training for the Workplace
Online Workshop runs 3 September – 14 October 2018
There will always be a need to organise training events and content – but these just need to be more relevant and appealing for today's workforce. This 6-week online workshop will help you consider a number of ways to design and deliver a range of modern training experience
Participation includes free access to the CILD resource (see below)
---
Continuous Improvement, Learning and Development:
A Online Resource Book for Modern Workplace Learning
Continuous Learning is vital – everyone says so – but what does it mean for organisations? it's not just about providing continuous training or making employees study continuously; it's more about helping them establish a regular habit of learning. In this new online resource we look at how to help individuals become independent continuous learners, how to provide a flow of continuous learning opportunities – which includes modern training – and how to help them learn continuously from their daily work.
This online resource will replace all previous MWL books by Jane Hart.
Find out more here and how to gain early access
---
How to become a Modern Professional Learner
In the modern workplace there is no longer such a thing as a job for a life – only a life of jobs – so it's up to everyone to continuously update their knowledge, skills and productivity and become an independent modern professional life-long learne
This online resource contains 60 Tasks to help you get the most out of your work life and take control of your career.
---
Jane Hart
Centre for Modern Workplace Learning
w: ModernWorkplaceLearning.com
t: twitter.com/C4LPT 
l: linkedin.com/in/C4LPT
You may copy, print or forward all or part of this Newsletter to others as long as any use is not for resale or profit and I am attributed. Licences to re-use the content within corporate or vendor newsletters are available.