Here are posts, articles and news about Modern Workplace Learning (MWL) selected by Jane Hart for the week 13-19 January 2019.
---
From around the Web
Does Higher Education still prepare people for jobs?  Tomas Chamorro-Premuzic and Becky Frankiewicz, Harvard Business Review, 14 January 2019
"In short, we believe that market demands clearly call for a paradigm change. More and more students are spending more and more money on higher education, and their main goal is largely pragmatic: to boost their employability and be a valuable contributor to the economy. Even if the value attached to a university degree is beneficial to those who obtain it, companies can help change the narrative by putting less weight on "higher education" as a measure of intellectual competence and job potential, and instead, approach hiring with more open-mindedness."
---
3 smart things top performers do to stand out at work  Quora, Inc, 14 January 2019
"The ability to transform knowledge is a dead giveaway for employees with potential. When I say transform knowledge, I'm talking about an ability to take some type of received information, digest it, and synthesize it into something new. For example, if a team goes to a conference and hears a lecture they really enjoy, for some, that might be the end of it. But the type of person that stands out won't leave it at that. She'll type up a summary of the speaker's points and send it to colleagues who may be interested.
---
3L's of Self-Directed Learning: Insights from My TEDx Talk  Tanmay Vora 16 January 2019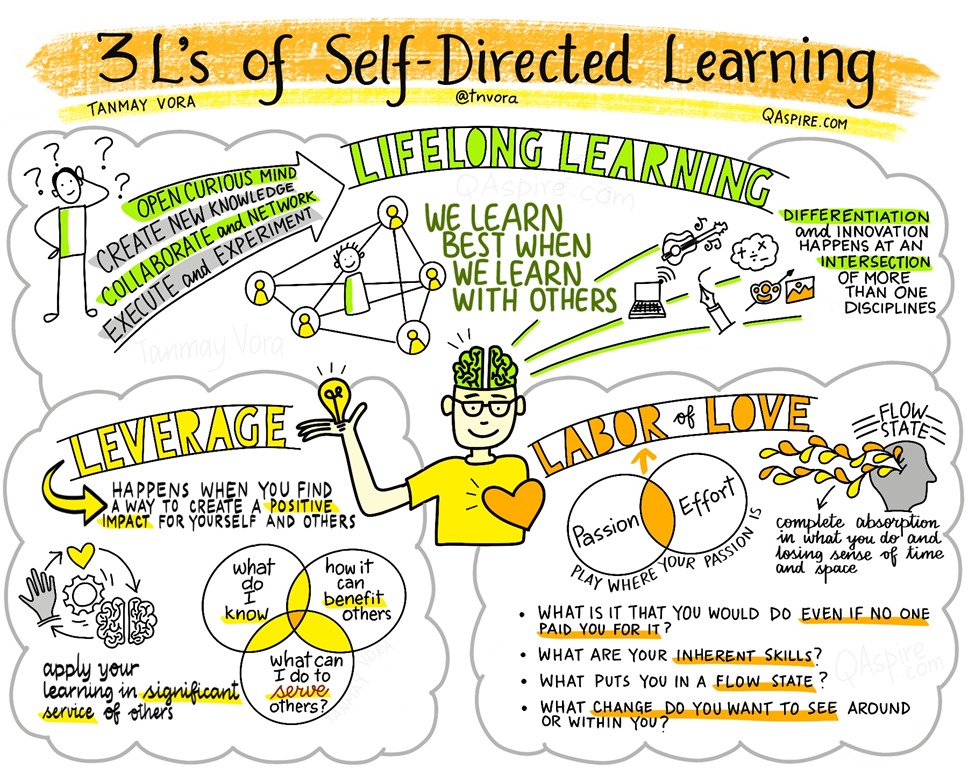 ---
Leaders need nudges, not more management training  Kevin Kruse, Forbes, 16 January 2019
"In most organizations, training managers isn't the problem. We provide training on management fundamentals, leading with strengths, communication styles and so much more. Yet, nothing changes. And engagement scores remain the same. Why?"
---
A measure of social learning  Mark Britz, 17 January 2019
"People are still hung up on how to measure social learning in organizations. It doesn't seem easy, clean or even possible and that is unsettling for them. In the end though it's still really just about measuring learning and that my friends is done through observing behavior change. It doesn't matter if it's social learning or training (formal learning), it's all about are people doing things better or differently because of an interaction (with content or a conversation)."
---
From the Modern Workplace Learning 2019 Online Resource
It's time for a new model of workplace learning
The results of the Learning in the Workplace survey show that classroom training and e-learning are the least valued ways of learning at work. They are often also considered ineffective approaches to learning, as a number of reports in mainstream newspapers have show. The education model on which the current training model is founded has remained largely the same for over 100 years, but it is evident it is no longer fit for purpose.
---
A Professional's Guide to Modern Learning
Intermittent training or studying is no longer enough, every professional needs to be taking charge of their own continuous self-improvement and self-development. The newly updated online resource,
A Professional's Guide to Modern Learning, contains 50 Tasks to help anyone develop a daily modern learning habit and take advantage of the many different ways of learning now on offer.
---
Next MWL Workshop
Creating modern training, content, events and experiences
4 March – 12 April 2019
L&D departments have traditionally focused on training people for compliance or conformance. This has  been done in the classroom training and more recently through e-learning. However, in the modern workplace we need more relevant solutions to performance problems, and where training (of some sort) is required, more modern approaches. This 6-week will look at how to create training, content, events and experiences for the modern workplace.
---
Jane Hart
Centre for Modern Workplace Learning
w: ModernWorkplaceLearning.com
t: twitter.com/C4LPT
l: linkedin.com/in/C4LPT
You may copy, print or forward all or part of this Newsletter to others as long as any use is not for resale or profit and I am attributed.